We will do a focus today on the error "Could not allocate space for object in database" that you may encounter after installing your new infrastructure SCOM 2016.
Indeed, the deployment of SCOM 2016 "autogrowth" applied on the basis of "OperationManger" is not activated by default. This situation then causes a blockage of the SCOM console and simply an incident at the level your complete infrastructure since the database files can no longer grow automatically.
Context
This troubleshooting was performed in a Microsoft System Center Operation Manager 2016 infrastructure.
Symptom
The error is encountered directly from the client console heavy Operation Manager and States, for example:
Could not allocate space for object ' dbo. RecursiveMembership'. ' PK_RecursiveMembership' in database 'OperationsManager' because the 'PRIMARY' filegroupe is full. Create disk space by deleting unneeded files, dropping objects int he filegroup, adding additional files to the filegroup, or setting autogrowth on for existing files in the filegroup.
In image, this gives:
Resolution or workaround
To resolve this problem, enable autogrowth database "OperationsManager" level and so on the contents.
To do this, go to your Management Studio console to administer the database and open the properties of the relevant base "OperationsManager" (the default database name).
Click on the item "Files" in the left menu, then check the status of the "Autogrowth / Maximize" column. In our case, two files have a "None" status, which means that the setting is not enabled.
To enable the setting, click the "…" for the first file for example.

Check the box "Enable Autogrowth" then depending on how you want the files evolve, configure the different settings. Once the configuration done, click "OK".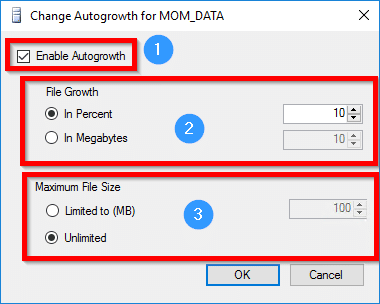 Repeat the procedure above for each file then check the configuration to appear well.

Restart the Operation Manager application services and you won't have any problem now.