Il est très simple de tester l'accès à un serveur FTP et rapidement. Pour cela, depuis votre système d'exploitation Windows, ouvrez un « Command Prompt » puis suivez les instructions suivantes.
Exécutez la commande :
C:UsersJeremy> ftp « IP ou Nom de Domaine »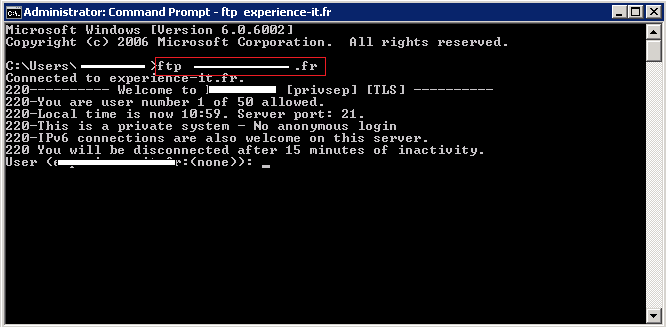 Saisissez ensuite le login de connexion : (Si votre login fait partie d'un domaine, vous devez ajouter login@domaine.fr)
220 You will be disconnected after 15 minutes of inactivity.
User (sys-advisor.com:(none)): login
Puis le password :
331 User ftpuser OK. Password required
Password: password
Vous êtes maintenant bien connecté.
230-User ftpuser has group access to: ftpgroup
230 OK. Current directory is /
ftp>
Vous pouvez utiliser la commande « dir » pour lister les fichiers et répertoires.