Lorsque vous souhaitez utiliser un serveur SQL distant avec votre serveur SCCM 2012, il est possible que vous receviez ce message d'erreur.
Setup is unable to connect to SQL Server with the connection information provided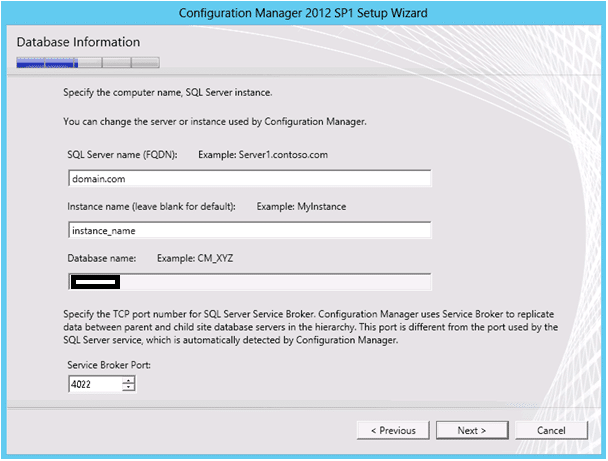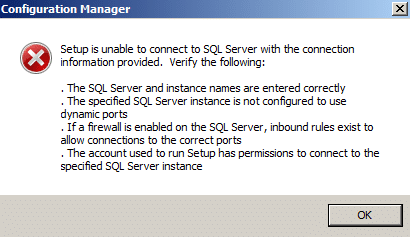 Plusieurs choses à vérifier :
–          « The SQL Server and instance names are entered correctly. »
Vérifiez que le nom FQDN de votre serveur SQL ainsi que le nom de l'instance SQL soient corrects (Laissez un champ libre si l'instance SQL est par défaut).
–        « The specified SQL Server instance is not configured to use dynamic ports« 
Connectez vous sur votre serveur SQL puis exécutez  « Sql Server Configuration Manager ». Allez dans « SQL Server Network Configuration » puis dans « Protocols for $INSTANCE_NAME ».
Vérifiez que « Named Pipes » soit bien activé. Puis cliquez droit sur « TCP/IP » et ensuite sur « Properties ».

Rendez-vous dans l'onglet « IP Addresses » et vérifiez que toutes les options « TCP Dynamic Ports » soient bien désactivées. L'option est désactivée si le champ associé est vide.
Vérifiez enfin le port « TCP Port » utilisé, dans notre cas, se sera le « 1433 » (port par défaut).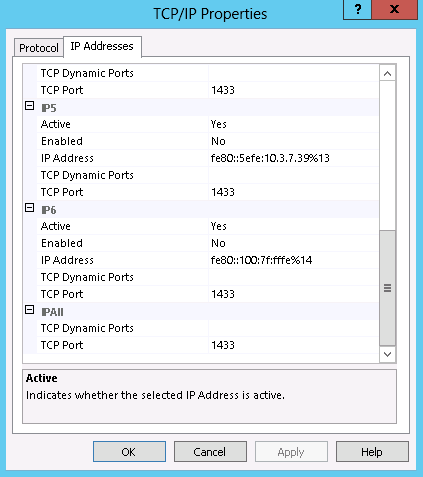 Redémarrer le service SQL Server de l'instance pour appliquer les modifications.
–         « If a firewall is enabled on the SQL Server, inbound rules exist to allow connections to the correct ports« 
Contrôlez que le firewall n'est pas activé sur votre serveur SQL.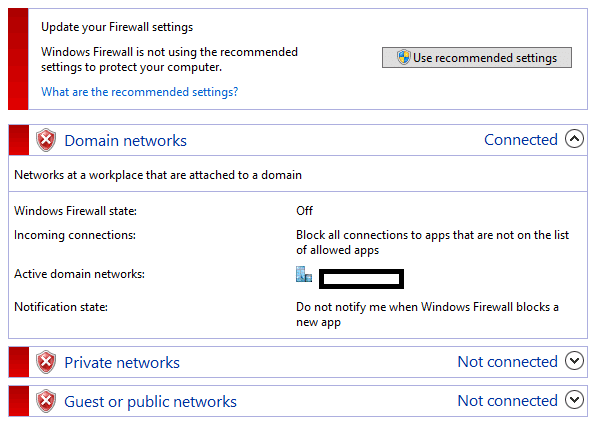 –       « The account used to run Setup has permissions to connect to the specified SQL Server instance.« 
Vérifiez pour finir que le compte avec lequel vous avez execute le setup soit bien autorisé à se connecter au serveur SQL.