DOSSIER Complet SCCM 2012
Dossier complet : Installation et exploitation de System Center 2012 Configuration Manager
 ——————————————————
Lors de la mise en place de SUP pour le déploiement de mises à jour, il ne faut pas qu'un serveur WSUS soit déjà configuré par GPO au niveau de vos postes clients. Si c'est le cas, alors vous verrez apparaître une erreur dans le fichier de log suivant présent sur chaque poste client :
C:Windows CCMLogsWUAHandler.log
L'erreur que vous devriez rencontrer est :
Group policy settings were overwritten by a higher authority (Domain Controller) to : Server http://votreserveur-wsus.domaine.fr.

Failed to Add Update Source for WUAgent of type (2) and id ((85F57D4-00C2-4D68-8152-35D55C6E1B4)). Error = 0x87d00692.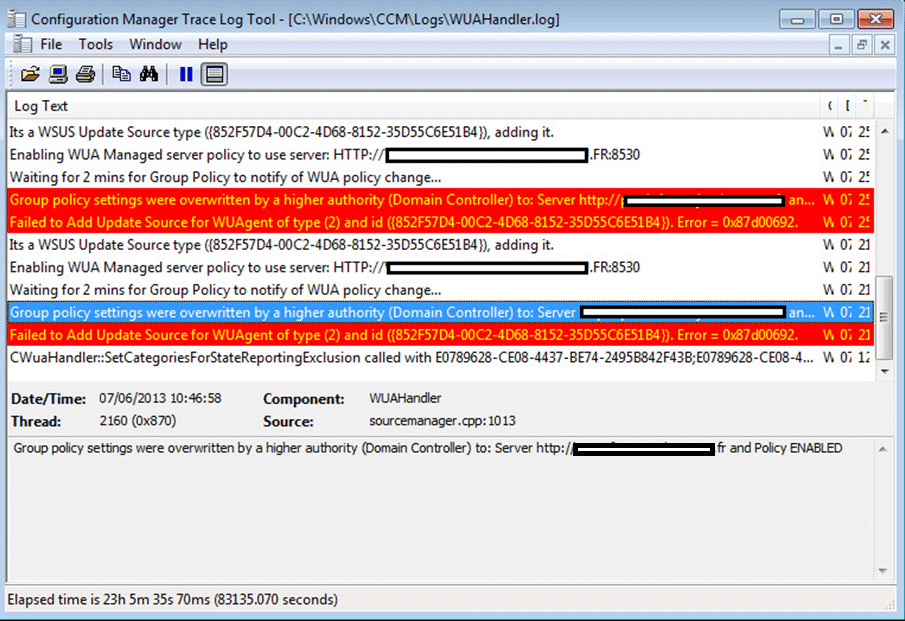 Pour résoudre ce conflit, il vous suffit de désactiver la GPO appliquée sur les postes ou vous souhaitez déployer des mises à jour.
Une fois la GPO désactivée, redémarrez le poste ou bien faites un (gpupdate) pour appliquer la modification.