Lorsque vous souhaitez télécharger un fichier depuis un serveur Windows, un paramètre de sécurité ne vous autorise pas à exécuter cette action.
Problème rencontré 
---
En français :
Vos paramètres de sécurité ne vous permettent pas de télécharger
En Anglais :
Your current security settings do not allow this file to be downloaded

Solution 
---
Pour solutionner ce problème il vous suffit de vous rendre dans les options internet de votre navigateur (Internet Explorer dans notre exemple)
Dans les nouvelles versions d'Internet Explorer, vous trouverez les options en haut à droite de votre navigateur « Option Internet ».
Une fois dans les options internet rendez-vous dans l'onglet « Security » puis  cliquez sur l'option « Custom level… »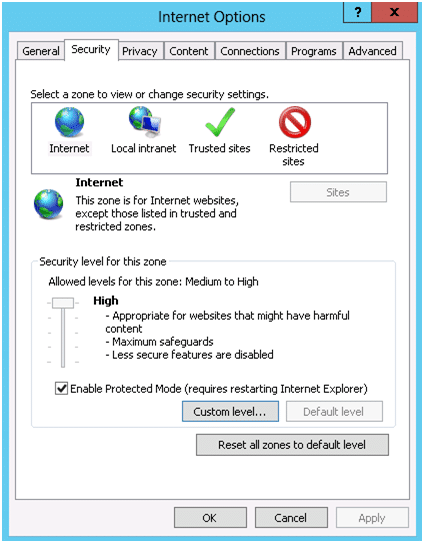 Déroulez et allez jusqu'à la partie « Downloads », vous trouverez l'option « File download » qu'il vous suffit de mettre sur « Enable« . Validez la nouvelle configuration en cliquant sur OK puis redémarrez votre navigateur internet.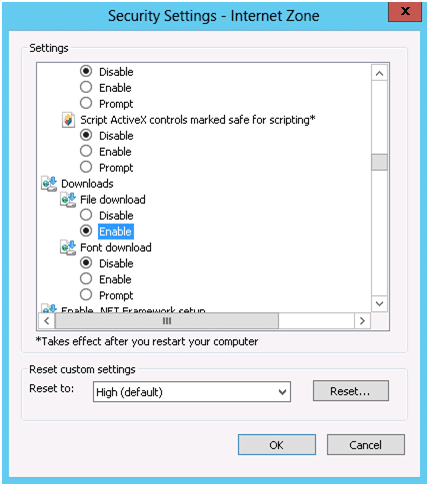 Vous pouvez maintenant télécharger vos fichiers depuis votre serveur Windows.